Microsoft recently made available Office 2013, including Sharepoint 2013, for download. I thought I would put together a small list of some new favorite Sharepoint features.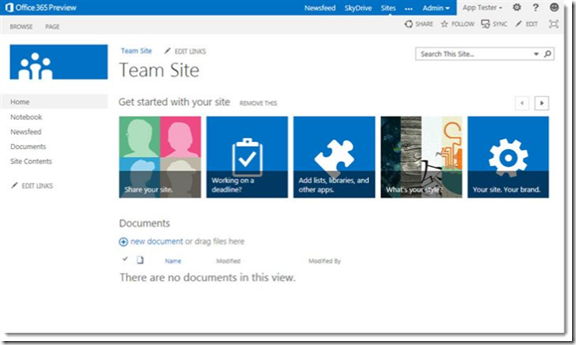 This is what the new Sharepoint 2013 team Site looks like.
Managed Navigation – You can now select between two different options for the Sharepoint Navigation. Structural Navigation is the way we are used to from older versions of Sharepoint and the new method is Managed Navigation.


If using Managed Navigation the navigation items will come from a managed metadata term set. this gives you full flexibility for the navigation items and also adds possibility for friendly URL's, like http://www.sharepoint247.com/DOWNLOADS
Device channels – this is for device specific rendering. you can create specific Master pages for specific devices, e.g. separate Master Pages for iPads etc. You can also use the device channel  in a Master Page or Page Layout so that you can have a particular part of a page render differently on different devices.
Design Manager – It contains links to common design tasks including links to create and edit Master Pages.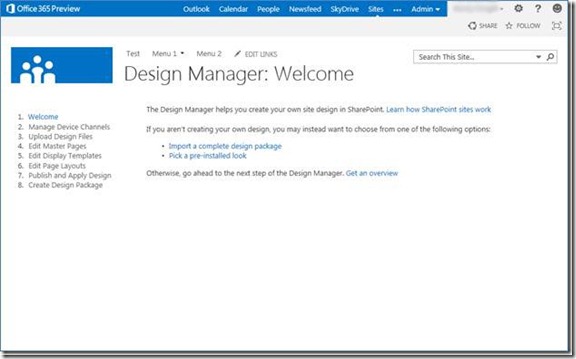 Via Design Manager you can create a Master Page by adding HTML and CSS and have Design Manager generate a Master Page for you. this means you can use any HTML editor you like to create Master Pages for Sharepoint, e.g. Notepad++, Visual Studio etc.
Design Manager also has the ability to create a design package. This will export the entire design and make it into a package that can be imported on another site collection or another Sharepoint server.
There is a lot more to the Design Manager than this so do play around with it and see what's possible.
Content Search Webpart – This will replace the old Content Query Webpart and will as the name suggests base its result on stuff from Sharepoint's search index. this makes it event more powerful than the old Content Query Webpart. And you can now style it with HTML and Javascript and I find that easier then the Content Query Webpart where we had to use XSLT.
Apps – The new Apps framework. this quote from Microsoft:
"In SharePoint 2013 Preview, you now have the ability to create apps for SharePoint. So what's an app? It's best described as a solution that carries a light footprint and uses standards-based technologies such as HTML5, JavaScript, and OAuth. Apps have a light footprint because they don't actually install on the host server, and that means they don't overload a SharePoint site with excessive API calls. Instead, you have a variety of hosting options for an app that gives you the flexibility to manage those services independent of the app package you add to your SharePoint site. See Apps for SharePoint overview to learn more."
You can put your App up for sail on the Microsoft Office Store or you can add your apps to an in-house company store for easy access from your Sharepoint environment. Users/administrators can then pick what apps they need for there Sharepoint Site, much like you added webparts on older versions of Sharepoint.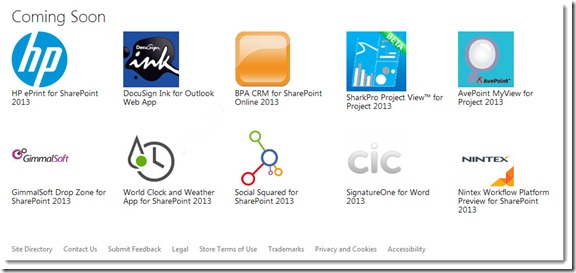 Sharepoint 2013 Preview App Store
That's just some of the new features I like in the next version of Sharepoint.  I'm sure I will find more new stuff in the weeks to come. In the meantime here are some links to good information about the new Sharepoint 2013 Preview and it's new features.
Microsoft Sharepoint 2013
Start Building Apps for Office and Sharepoint
Apps for Sharepoint Overview
Joel Oleson's blog post – Sharepoint 2013 Top 10 New Features
Microsoft Sharepoint 2013 new features and capabilities