When using the Refinement Webpart in Sharepoint 2013 this will by default not show counts for the refiners.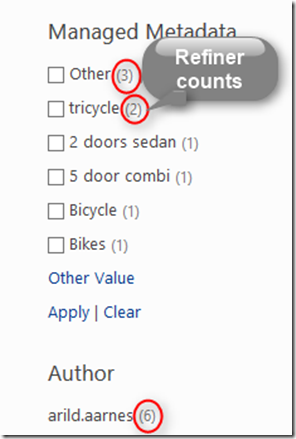 There is an easy way to enable the counts by editing the Display Templates for the Refinement Webpart.
Map a drive to <your site collection>/_catalogs/masterpage e.g http://myserver/sites/home/_catalogs/masterpage
Navigate to the Display Templates folder
Then navigate to the Filters folder
Open the file Filter_Default.html in your favorite HTML Editor E.g. Notepad++
Change the ShowCounts value to true. You will find ShowCounts on line 25

Save and close the file.
Repeat this for the Filter_MultiValue.html file. The Filter_Default.html file is used for standard refiners while the Filter_Multivalue.html file is used for multivalue refiners.
That's it, refresh your page and the refiners should now show a count value for each refiner.
More info:
Configure refiners and faceted navigation in SharePoint Server 2013  From Technet.