Microsoft recently announced that Business Connectivity Services is now available for all Office 365 midsize and enterprise customers.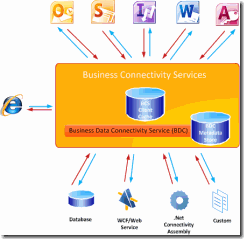 This will enable Office 365 customers to develop solutions that connect to line-of-business (LOB) applications that sits behind the customers firewall. Business Connectivity Services enables customers to connect to external data sources via Windows Communication Foundation (WCF) Web Services endpoints in both read and write modes.
Office 365 and Sharepoint Online now also supports external lists and data columns, the Business Data Catalogue (BDC) service for WCF connectors, and the Secure Store Service partitioned at the tenant level within customers' SharePoint Online Administration Center.
You can get more information about this and other new functionality for Office 365 from the Microsoft Sharepoint Team Blog at http://sharepoint.microsoft.com/blog/Pages/BlogPost.aspx?pID=1002