Microsoft launches IUseSharePoint.com
Microsoft has launched a new website named IUseSharePoint.com. The site contains a lot of tips&trick on how to use SharePoint and has a lot of videos and testimonials from customers on how they are using SharePoint.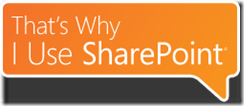 There's also a SharePoint Adoption Kit available for download. The kit contains instructions, templates, videos, quick reference cards etc.
http://sharepoint.microsoft.com/iusesharepoint/Pages/get-the-kit.aspx