This is a simple webpart to show a list (with links) of subsites immediately below the current site.

This webpart will work on both Sharepoint 2010 and Sharepoint Foundation. On Sharepoint 2010 you could have used the built in "Table of Contents" webpart to do similar things but this one can also display the list as a dropdown list to save space on the webpage and it can open links in a new window.
All the settings can by edited in the webpart configuration panel.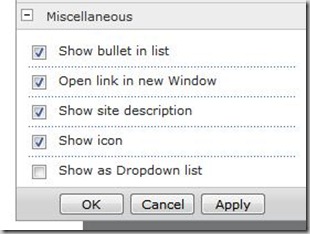 The settings are:
Show bullet in list – this will display the small square gif in front of the site name
Open link in new window – this will open the subsite in a new window
Show Site Description – this will show the description you entered when you created the subsite
Show icon – Shows a icon for the type of subsite, see picture.
Show as dropdown list – Will display the subsites in a dropdown box to save space.
The webpart can be downloaded here and is free of charge, use for whatever you need.
(If you need the subsites webpart for MOSS 2007 or Windows Sharepoint Services 3.0 (WSS) you can download that from here Subsites Webpart for Moss 2007.)
Unzip the downloaded file and install the  Subwebs.wsp file on your Sharepoint server. Instructions on how to install a wsp file can be found here.
Update: You can now download the source code for this webpart here http://sharepoint247.com/wss3/subsites-webpart-source-code/